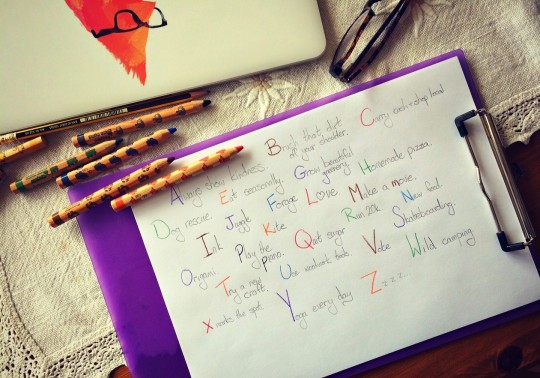 For the second year running, I set out with 26 goals and ideas to see me through 2015. Now I find myself the wrong end of June realising half the year has already passed. The business of setting up a business has cram-filled my days, with the demands of 'D' filling in any spare moments. We've decided to stay close to home for the summer break, so I'm looking forward to having some of those stretchy, timeless days where I needn't always be thinking of tomorrow.
I started my year Brushing the dirt off, and riding my Skateboard round the city. I hadn't anticipated B to be quite so literal, but sprawling in a heap to general public amusement and getting back up again does feel good practise for doing the same with the other shit in one's life.
Tom has really nailed the Homemade pizza, thanks to a great Smitten Kitchen recipe and some kneading know-how. I Played the Piano and learned this tune (it stands up to repeated playing.) I Made a mini movie, Quit sugar (for maybe 48hrs) and did some simple carpentry (nothing I would sit on).
This summer is for Wild camping and catching up on some long-dreamed-of afternoon Zzzzs. I'll be trying a new craft (with this pattern) and watching the garden Grow. The Running and Juggling might just have to wait for the autumn; it's far too hot for any of that nonsense. But really, the Yoga should be happening now (I think I've managed 10 minutes total this year.) Maybe I'll blame it on Y being late in the alphabet.