I'm writing this with a dog by my feet. I'm still surprised that I've managed to pull it off. I can't quite believe we found such a lovely dog (completely unbiased opinion) and also convinced someone we're capable enough to be responsible owners. I shouldn't really be surprised, given how many dogs are in need of rehoming. Favourable odds on finding a good'un and a rescue centre willing to entrust him to us. Still, I definitely don't know what the hell I'm doing. It turns out there's a fair few lessons to learn in training a dog.
Some of it has felt simply perfect from the first moment. Exploring quiet corners of the countryside, or chilling out by the fire. I defy anyone to be strict about 'no dogs on the couch' after the utterly peaceful delight of reading a good book with one curled up next to you.
Out and about things feel less certain. Training classes are hilariously bad. A room full of other dogs is way too exciting and only fistfuls of chicken will keep Rolo quiet. So, we're still seeking out quieter spots to wander. Our beautiful Northwood Park has a hidden green knoll, perfect for a long leash and a frisbee. He's a fine catcher, mid-jump and all. He just needs to figure out that fetch is more fun if you bring it back.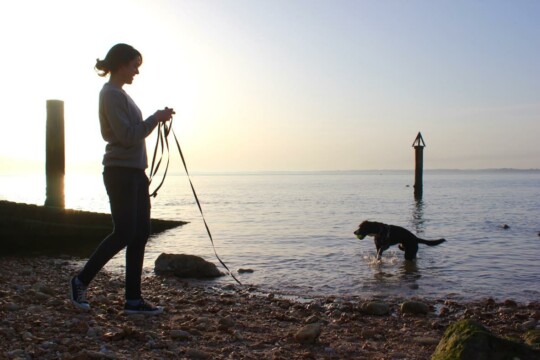 We still have a way to go. I'm looking forward to being able to take a calm Rolo down on the seafront. To skate. I think it might be a while…