It's amazing how six days away can feel like a fortnight. Leaving the car behind, we took the train to Chepstow and headed off along the Wye Valley Walk towards Tintern.
The Wye valley, just South of Redbrook. Someone told us that anglers can pay up to £50,000 for a riverside plot. Seems hard to believe when you can walk along it or swim in it for free.  There's more forest here than anywhere back home, and the steep valley climbs did not go unnoticed with packs the size (and weight) of bathtubs.
Peaceful camping at Cherry Orchard Farm. Such a find, we almost hesitate to share the secret.
Enjoying the view from the Offa's Dyke path, and a walk without heavy packs.
We had a luxurious rest stop at Hay-on-Wye. Couldn't resist buying a book at Richard Booth's bookshop; they've restored the place beautifully, and it's vying with the Elliot Bay bookshop in Seattle as our all-time favourite.  Kilvert's was a great pub find, with excellent beer and staff who know their stuff.
The Offa's Dyke path out of Hay is a steep one, leading through lush fields and up to the Black Mountain.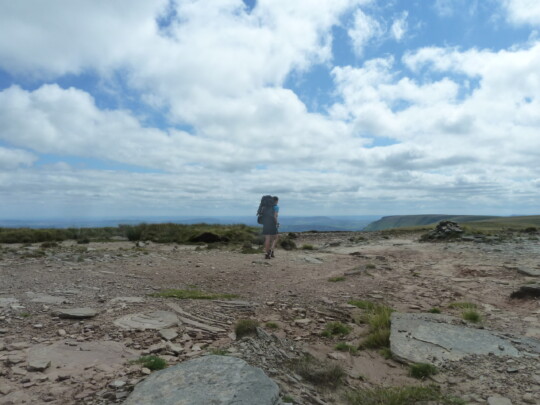 Grand views and not a breath of wind. We were grateful to have a clear path, having been stingy/foolish and only bought a small scale pink OS map.
Llanthony, our destination for the night. The campsite was full, with visitors to the county show and rodeo, but we still enjoyed a pint from the cellar bar, whilst sitting in the abbey grounds (possibly the best pub garden ever.)
Our last morning up on the Black Mountain. The views are hard to beat. The Brecon Beacons are just the other side of the valley and it was tempting to head straight for them, rather than return home.
But, there's plenty to return to, with Cowes Week and plenty more sunny days to explore closer to home.