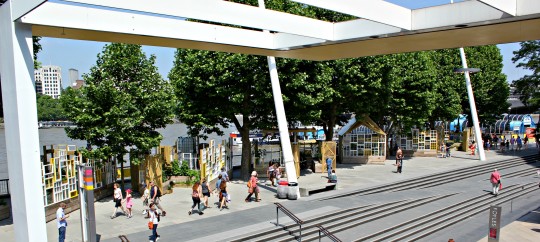 Whilst we were planning to spend the weekend in London, it was too hot to be far from the beach.  So, it's been a weekend of contrasts.  We spent Saturday up in London, and Sunday by the sea.  With tickets to see Tom's mum sing with 16,000 other Rock Choir singers at the Millenium Dome, we took the Thames clipper out to Greenwich.  A hot day spent in London, without taking the tube, is the best sort of day.
We wandered through the Southbank centre and soaked up the herb gardens, food stalls, live music, and fountains.  It was heartbreaking to see the once-lively skateboard ground boarded up.  Though I'd heard rumours, I had no idea it was actually at an end, and the vibrancy of the Southbank was all the poorer for it.
Catching the Thames Clipper was worth the wait, as we saw London from a rare angle, out East along the wharves.  Then, picnic in the park, followed by singing in the arena.
It was quite an incredible thing to see so many singers all doing their thing all at the same time.  These guys are coordinated!  Of course, we couldn't spot Suzie in the crowd, but we could easily spot the Welsh contingent, who wore giant daffodils, and the group waving neon electric guitars.  Everyone was clearly having a great time, and I loved the celebration of how fun it is to sing in a group.  I defy anyone to not feel good after a little singing, and even  better after singing with others.  You can find a local choir near you at Making Music. Or you could buy this beautiful book and sing along at home!