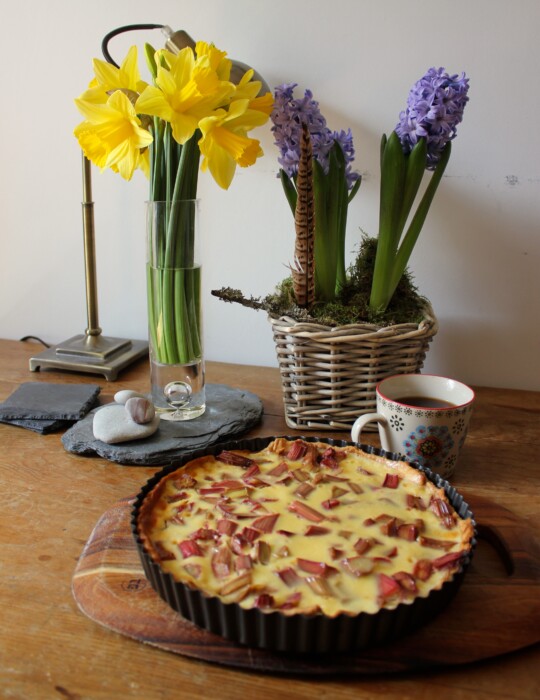 When I visited Amber last week, not only did she dig up half her garden to share, she also sent me home with a bundle of freshly-picked rhubarb. Ordinarily I would make a crumble, oaty and sweet, eaten in spades with a dollop of ice cream on the side.
But I had a hankering for one of those delicious custardy tarts, that every French village bakery sells. The kind that makes me wish I was French. Turns out neither custard nor pastry is quite as straightforward as the usual chocolate chip cookies I churn out when I have a sweet-tooth.
Cakes and puddings should rarely take longer to make than they do to eat. So, I hacked together a quick and easy tart to follow my rule, and spent the time saved sipping coffee and having a natter with my mum. In case I'm not alone in the lazy-baker status I've jotted the recipe down below:
Prep pastry: Grab a ready-made roll of shortcrust pastry from the chiller at the supermarket. Lay it into a round dish, smoosh into the edges, and trim the surplus at the top (but leave a bit of wiggle room as the pastry may shrink a bit as it bakes. Prick the base with a fork and pop it in the fridge.
Bake rhubarb: chop in to chunks and put in an oven dish. Mix in ~80g brown sugar and a splash of vanilla extract. Cover in foil and bake in a medium oven for around 15mins. Then, drain and put aside the baked rhubarb.
Blind bake pastry: cover the base in baking parchment and baking beans for ~15mins. Then, remove parchment and beans and bake for a further 5mins. Once baked, wash the bottom with egg white.
Make custard: whisk ~80 caster sugar, 1 tablespoon cornflour, 2 eggs, one small pot (~300ml) of creme fraiche.
Assemble your pie: add the rhubarb first, then pour custard over the top.
Bake for 25mins. Enjoy with a cup of coffee and a gossip.